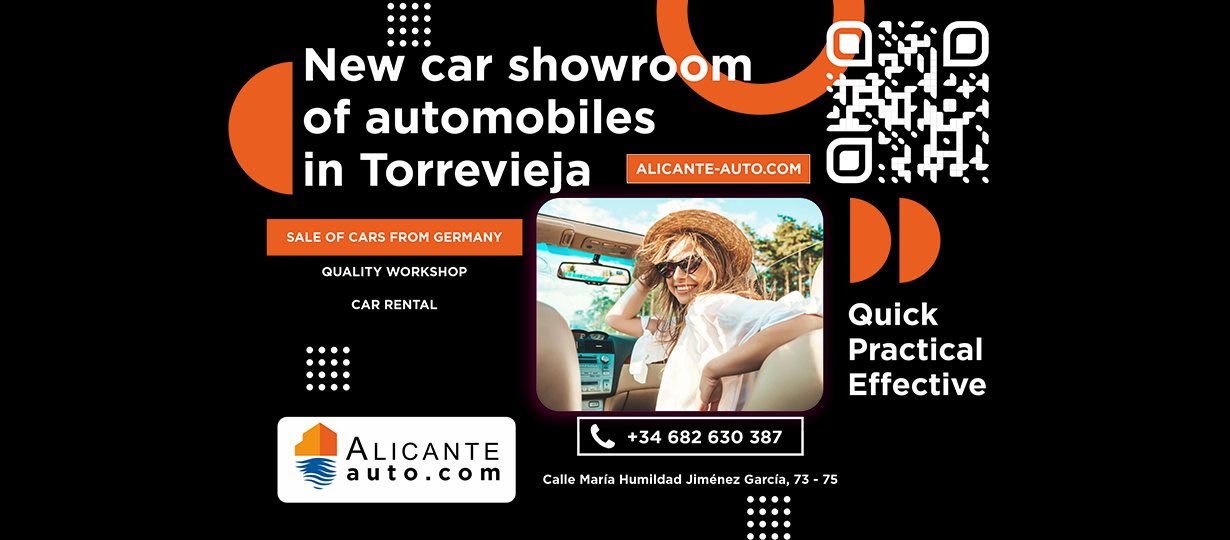 The main activity of our company is the sale of real estate, but we find new partners and investors to open new areas of business. One of these new directions – car service in Torrevieja.
This year we have opened a large, new car maintenance facility, 300 square meters will be devoted to car service and more than 500 square meters to car parking, which will be prepared for sale and part of the cars will be rented out.
The car service is located in the city of Torrevieja, at – Calle María Humildad Jiménez García, 73 - 75.
We are waiting for you among our clients.
Car service with german quality in Torrevieja
Torrevieja, a picturesque coastal town in the province of Alicante, Spain, is renowned for its beautiful beaches and vibrant nightlife. The town has recently gained another attraction - a new high-quality car service center, with German specialists. This state-of-the-art facility provides a wide range of services for German car owners, including maintenance, repairs, and performance upgrades.
The new car service center is staffed by a team of highly trained and experienced technicians who have a deep understanding of cars. They use the latest tools and technology to ensure that each vehicle is serviced to the highest standard. The service center also stocks a wide range of genuine parts and accessories for all major German car brands, such as BMW, Mercedes-Benz, Audi, and Volkswagen and others.
In addition to the standard services, the facility also offers a full detailing service for your car. This includes a full wash and polish, interior cleaning, and even a ceramic coating application to protect your car's paintwork.
The new car service center also boasts a comfortable waiting area for customers with comfortable seating, complimentary coffee and Wi-Fi access. And the service center is open six days a week, to ensure that you can get your car serviced at a time that suits you.
Torrevieja car service
Turning to our car service in Torrevieja, the car owner receives all types of work on the diagnosis and repair of any modern car. Our team is made up of experienced craftsmen who do their job flawlessly. Our arsenal has all the necessary tools and special equipment for almost all types of car maintenance.
List of car service:
Vehicle maintenance
Engine repair
Transmission repair
Suspension repair
Steering repair
Brake system repair
Cooling system repair
Fuel system repair
Exhaust system repair
Tyre
Auto electrical repair
Repair of electronic control units
Computer diagnostics
Installing accessories
Window tinting
Auto glass repair and replacement
Car soundproofing
Theft protection
Daytime running lights (DRL) repair
Corporate fleet maintenance
High pressure hose repair
Car service
Masters of car service Alicante Auto will perform almost any work on diagnostics or repair of cars of all brands. You can also purchase any spare parts from time-tested manufacturers at anti-crisis prices.
We guarantee the quality of the services provided in our car service.
The Alicante Auto company strives to increase the number of services provided, their quality and convenience for customers. Firstly, you can sign up for our service through the website or by calling us. Secondly, we are constantly working to improve the quality of services, additionally motivating employees with bonuses and incentives.
At Alicante Auto, consumables such as oil, cabin and air filters are always available. The rest of the spare parts are available in stock, their delivery takes several hours, so contacting us, you do not have to waste your time looking for a particular spare part. Some spare parts can be ordered directly on the spot. We have put a lot of effort into the convenience of servicing your car.
Quality auto service in Torrevieja
The opening of this new high-quality car service center in Torrevieja with German specialists is a great addition to the area. With its state-of-the-art facilities, knowledgeable technicians, and wide range of services, it is sure to become a popular destination for car owners looking to maintain or improve their vehicles. Whether you're a local resident or a tourist visiting the area, this new service center is an excellent choice for all your car service needs.