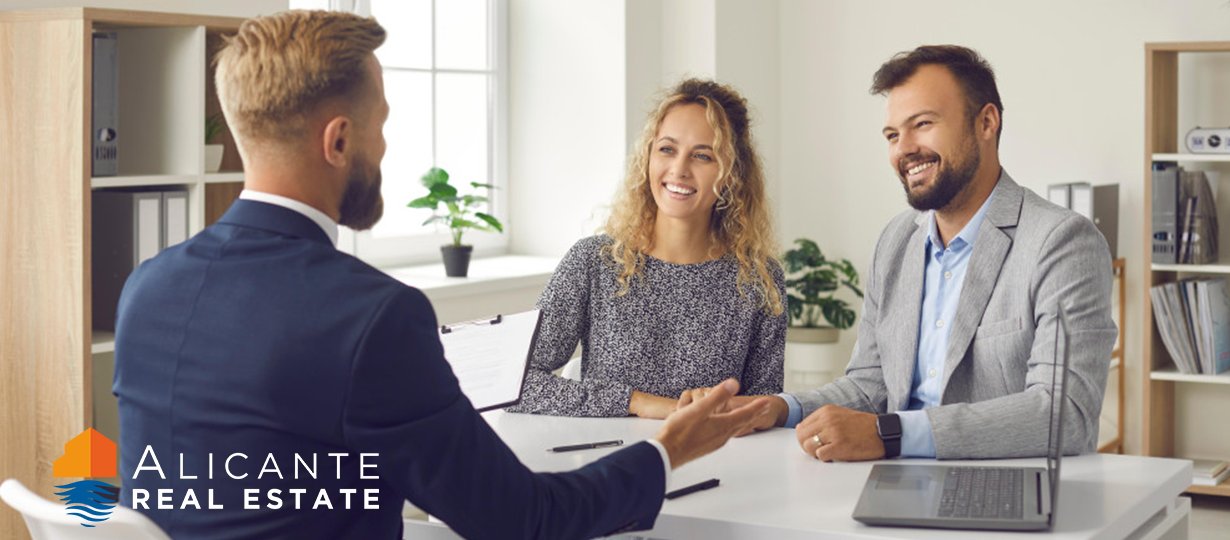 Clients, workplace, telephone, computer and all infrastructure for transactions are provided.
Everyone dreams of becoming an employee at Alicante Real Estate, Unique opportunity, we are expanding our team and looking for new real estate agents.
Alicante Real Estate offers several offices in the Alicante region, workplace, mobile phone, laptop, infrastructure for the entire buying process and daily new customers from all over Europe.
Alicante Real Estate is one of the leaders in the sale of real estate, selling more than 250 properties a year.
Our company has a variety of business sectors and rents, among others, more than 200 properties, has its own car dealership with a workshop and its own industrial laundry, which serves almost 300 properties.
We offer a pleasant working environment, various corporate events, structured performance bonuses and career opportunities.
We want to have only dedicated and dedicated agents and carefully select our sellers.
If you're multilingual and a born salesperson, this is the place to make money.
Our brokers earn an average of €5,000 per month. Autonomous only!
Real estate agent in Spain
Education: higher education in the field (for example, economics, finance, management, law), in exceptional cases, secondary education may be sufficient.

Experience: Real estate experience is usually required, candidates with no experience will be considered if the right education and skills are available.

Language skills: a high level of Spanish is required, and knowledge of English may be desirable, knowledge of other European languages \u200b\u200bis welcome.

Communication Skills: A real estate agent must have good communication skills to work with clients and colleagues.

Sales Skills: A real estate agent must have sales experience to help clients select and buy properties.

Knowledge of the real estate market: a real estate agent must know the real estate market in the region in which he works, as well as have skills in property valuation and marketing.

Computer skills: The real estate agent should be familiar with the use of computer programs and online platforms for client management and property management.

Driver's License: A driver's license is usually required, as the real estate agent must travel frequently by car to inspect properties and meet clients.
Work in Spain. Real estate agent
Finding a job as a real estate agent in Spain can be tricky but possible if you know how to approach the process the right way.
First, you need to decide on the region in which you would like to work and study the requirements for qualifications and experience for this position in Spain. In addition, you should familiarize yourself with the basic taxation and registration requirements for working in this field.
Next, you can start searching for jobs through various online platforms such as InfoJobs, Indeed, or LinkedIn. It's also a good idea to look up local real estate agencies that may be hiring.
When looking for jobs, keep in mind that knowledge of Spanish is a requirement to work in Spain. If you don't speak it well enough, you might want to consider taking a Spanish course.
Also, keep in mind that many employers prefer to hire employees with experience in the field. Therefore, if you do not have experience as a real estate agent, you can start by working in other areas of real estate, such as construction or property management, to gain the necessary experience and knowledge.
Finally, when you find a suitable job, make sure that your resume and cover letter grab the attention of the employer and reflect your professional qualifications and experience. It is also important to be proactive and actively cooperate with the employer in the job search process in order to increase your chances of getting a job.
Property management for rent
We are looking for an energetic and motivated Real Estate Agent to sell and rent apartments in our company. Our company is engaged in the rental and sale of real estate in the city, and we are looking for a person to work in our apartment rental sales team.
Requirements:
Experience in the field of real estate (preferably in sales of apartments for rent)
Excellent communication and persuasion skills
Teamwork
High level of Spanish (English would be an advantage)
Knowledge of the real estate market in the city
Experience in sales and ability to manage sales
Desire to learn and grow in real estate
Driver's license and own car
Responsibilities:
Searching for new clients and selling apartments for rent
Client and property database management
Participation in property showings and negotiations with clients
Preparation and conclusion of lease agreements
Processing requests from customers and answering their questions
Follow city real estate market trends
We offer fair commission rates, flexible working hours, opportunities for professional growth and development in the field of real estate. If you have experience in sales of apartments for rent and are ready for new challenges, we will be happy to consider your candidacy.
Send resume by email. In the subject write - Vacancy ARE
UPDATE JULY 11, 2023
To learn about new vacancies at Alicante Real Estate, follow the telegram channel: